Increasing accuracy and efficiency with document intelligence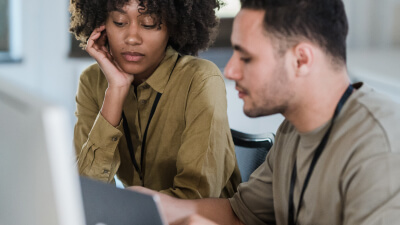 Organizations across the private and public sectors often struggle with efficiently processing the large volumes of documents that are crucial to their operations. Every organization faces the challenge of having their people spend significant amounts of time to collect and read documents, pull information from them, and ensure the correct action is taken with the information.
Compliance, privacy, and security requirements further complicate the process. For many, it is a daily routine, forcing people to focus on manual, time-consuming, and error-prone work instead of higher-value efforts.
The Egen Document Intelligence Solution accelerates and simplifies the work of document processing to improve efficiency and accuracy both for organizations and the people they serve. Using machine learning and artificial intelligence, Document Intelligence helps organizations process a wide variety of documents, extract the important information with high accuracy, and keep humans in the loop for validation.
Document Intelligence makes the most of an organization's data-rich documents, then puts the insights in the hands of people who can do something productive with it to improve operational performance and provide better service.
Document Intelligence is unique because it is:
Flexible: It uses a variety of approaches to handle documents in many different languages and formats. It can process documents that include tables and drawings or are even handwritten.
Intelligent: After using built-in intelligence to extract and understand information, Document Intelligence can also ask for validation of its findings with a human in the loop.
Accurate: The solution's accuracy increases as document volume increases. In each use case for Document Intelligence, the solution has reached the highest level of accuracy requested for that given use case.
Fast: Document Intelligence works quickly, using seamless training and automation to extract defined data fields.
With these features, Document Intelligence saves organizations time and money, reduces the risk of human errors while ensuring compliance, privacy and security, and saves people from mundane tasks so they can focus on higher-value work.
The document intelligence in action
Organizations across financial services, health care, the public sector, and more are already realizing the benefits of Document Intelligence:
Extracting information for financial services
A financial services company that deals with a range of reports needed a way to extract numbers from these documents. The documents are often hundreds of pages long and include many tables. It extracts the necessary information, validates the data with a human in the loop, and seamlessly moves the information into BigQuery for use in the company's formulas to balance stocks and financial assets
Reviewing medical claims
A health care company uses Document Intelligence to process information-rich medical claim forms, look for patterns, and flag which claims might be fraudulent. The solution provides an accuracy score measuring the likelihood of a claim being fraudulent, which a human can use for further review.
Updating patient registries
Looking to greatly reduce the manual labor of reviewing patient information for updating patient registries, a health care company uses Document Intelligence for a HIPAA-compliant solution. It can automatically identify, abstract, and assemble vital data necessary for updating each patient record.
Processing unemployment insurance claims
State and local government agencies receive many requests, forms, and documents that need to be verified related to unemployment insurance claims. With Document Intelligence, these agencies are reducing human errors and lowering the costs associated with processing claims.
◼