Exploring impactful use cases with crowdstrike on the snowflake data cloud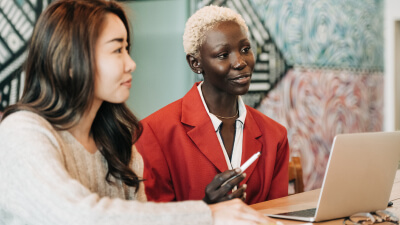 One of the highlights during our time at the Snowflake Summit 2023 was exploring impactful use cases on the Snowflake Data Cloud with our client, CrowdStrike, and an engaged audience during a breakfast conversation.
Joining me for the conversation was Abby Kai Liu, the Marketing & Growth Analytics Director at CrowdStrike. Attendees were eager to engage, gain insights, and learn practical approaches to using the Snowflake platform.
We learned about the data journey for CrowdStrike, a global cybersecurity leader with an advanced cloud-native platform for protecting endpoints, cloud workloads, identities and data. The nearly 300-person marketing team at CrowdStrike faced the challenge of too many dashboards that had been developed over time, all of which told a different story about the impact that marketing had on the business.
Abby set out with the goal to consolidate the marketing data into one dashboard with clear, simplified and aligned metrics. Crowdstrike was reconstructing their Snowflake instance to design for scale when they decided to bring in experts from Egen (formerly SpringML Inc.) to help.
CrowdStrike knew it needed to rebuild its Snowflake setup because the initial build of it was overly complex. There were tables linked to tables, which made it difficult to unravel the logic behind certain calculations. CrowdStrike had also matured so much that the company transitioned from one data warehouse for the entire organization – where users had limited access controls and autonomy over how to define and structure the warehouse – to using separate data warehouses for each of its business functions, such as marketing, sales, and finance.
Abby benefitted from working with Egen at two of the companies where she worked previously. She knew it would be the right match to work with Egen again, given the company's knowledge and depth of capability when it came to unlocking the full value from implementation of Snowflake.
The most important thing to Abby in selecting Egen was knowing that the company would be a partner rather than a "check-the-boxes" task deliverer.
"We do not always know what to ask for when we start out, but the SpringML(now known as Egen) team poses the right questions every time to understand our challenges, develop solutions with us, and find new opportunities to extract the most value from our work together," Abby said. "It saves us a lot of time in the long run.
Together, Egen and CrowdStrike built on the concept of "time travel" and created a unique version of Snowflake snapshots for CrowdStrike to tell the story of how the business has evolved over time.
The CrowdStrike marketing team references this new dashboard daily. Team members now all use the same dashboard to arrive at one version of the truth.
Many of the breakfast conversation attendees said they were thinking through similar challenges and opportunities with their implementations of Snowflake. It was clear that across almost every industry, organizations want to make the most of their data by turning it into insights, action, and impact.
"We are still learning as we continue fine-tuning our use of Snowflake. That is a constant," Abby said. "I am very grateful to have SpringML (now Egen) guiding us on that journey."
If you are interested in discussing additional insights and opportunities for your organization using the Snowflake platform, connect with our team of Egen experts today: [email protected]
◼