Creating a personalized retail experience with AI
With the right tools, retailers can use data to create an AI-driven personalized retail experience that earns customer loyalty.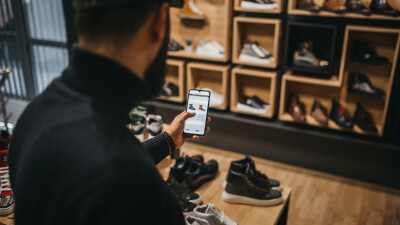 By Raghu Potini
Retail generates an ever-growing volume of data about customers. With the right tools, businesses can use this data to create an AI-driven personalized retail experience that earns customer loyalty.
AI in fashion
AI is generating fashion ideas at a rate even the most caffeine-fueled designers cannot match. Brands like online styling service Stitch Fix use AI to suggest personalized outfits based on your style, fit, and color preferences. It is like they have created a personal stylist that is always learning about you and adapting to your latest preferences.
ThredUp is another example of using AI in a creative and impactful way. ThredUp offers an online treasure trove of secondhand fashion items for sale, with AI embedded as an expert guide leading you to the hidden gems. It uses an AI-powered recommendation engine that predicts what you are looking for to deliver spot-on style recommendations. It looks at your browsing patterns, favorite brands, sizes, and even colors to curate a personalized shopping experience.
ThredUp's AI matching system has several perks: Say you are browsing and stumble upon a dress you love, but it is not available in your size. ThredUp can find similar items in your size to guide you to available pieces you will love. ThredUp highlights that it is not just about buying and selling clothes anymore. It is about creating a personalized, engaging experience for each customer.
AI in beauty
When it comes to purchasing beauty and personal care items, a big perk of AI is that it "remembers" everything about you, even things you often forget.
Fun fact: Mascara is teeming with bacteria, and you are supposed to replace the tube every three months. For beauty shoppers, not replacing the tube could lead to eye infections. For brands, it could lead to bad reviews. But AI can help remind shoppers about the need to replace such items.
Imagine using AI to educate shoppers about beauty products, hygiene, and care. Not only do you provide them with value, but you can sell more of your product by using purchase and browsing data to send personalized replenishment reminders when items like mascara should be replaced.
Beauty and personal care retailer Sephora is already doing this for its shoppers, who can visit a product page and select auto-replenish.. Next, they choose a delivery schedule that works best for them. They can even earn a discount on subscription deliveries and enjoy free shipping.
Generating personalization and customer insights
These AI innovations for retail are only as good as the data fed into them, though. This is where customer data platforms, or CDPs, come in.
CDPs pull all customer data into one place. With this holistic customer view, marketing personalization goes from generic "Dear Customer" emails to messages that feel like they are from someone who knows you. Using information like purchase history and browsing behavior, brands can suggest products you are likely to want or need.
Business intelligence (BI) and data dashboards also help make sense of the massive amounts of data generated in retail. Brands like clothing company H&M use these dashboards to monitor everything from sales trends to inventory levels for informing business decisions. H&M has turned its Power Platform Center of Excellence into the true heart of its business, using BI and dashboards to optimize operations and infuse creativity in every corner of the company.
Bring the power of AI to retail
Are you ready to unleash the power of data and AI for creating personalized retail experiences? Contact Egen today.
◼